Wholesale Professional Box PP Plastic Storage Case with Handle>
Model NO.: SL-GD01

Style: Simple

Logo Printing: With Logo Printing

Group: All Crowd

Feature: Disposable

Sizes: Available

Quality: Best

Price: Best

Content: Big

Colors: Available

Trademark: saferlife

Transport Package: Gife Box

Specification: 43*31*12

Origin: Guangzhou

Model NO.: SL-GD01

Style: Simple

Logo Printing: With Logo Printing

Group: All Crowd

Feature: Disposable

Sizes: Available

Quality: Best

Price: Best

Content: Big

Colors: Available

Trademark: saferlife

Transport Package: Gife Box

Specification: 43*31*12

Origin: Guangzhou

PP Empty box/ Plastic tool box

High class pp material

Light and easy to carry

Big content capacity

Economical for use

Three sizes available

Different colors available

SL-D01 23*18*5cm

SL-D002 25.5*21*7cm

SL-D003 27.5*23*8.5cm

SL-D004 34*27*8cm

SL-D005 39*35*9cm

SL-D006 43*31*12cm

SL-D007 48*37*15cm

SL-D008 39*35*9cm

SL-D009 41*31*10cm

SL-D10 25*21.5*7cm

SL-D11 34*29*8cm

SL-D12 36.5*31*16.5cm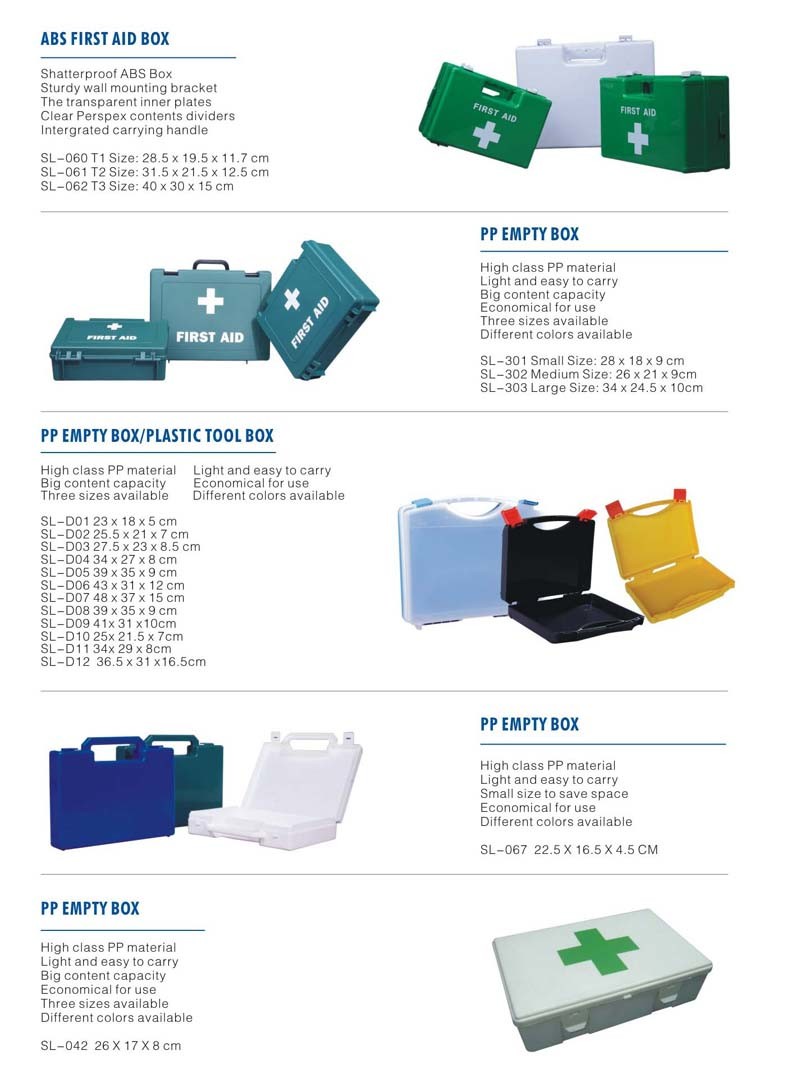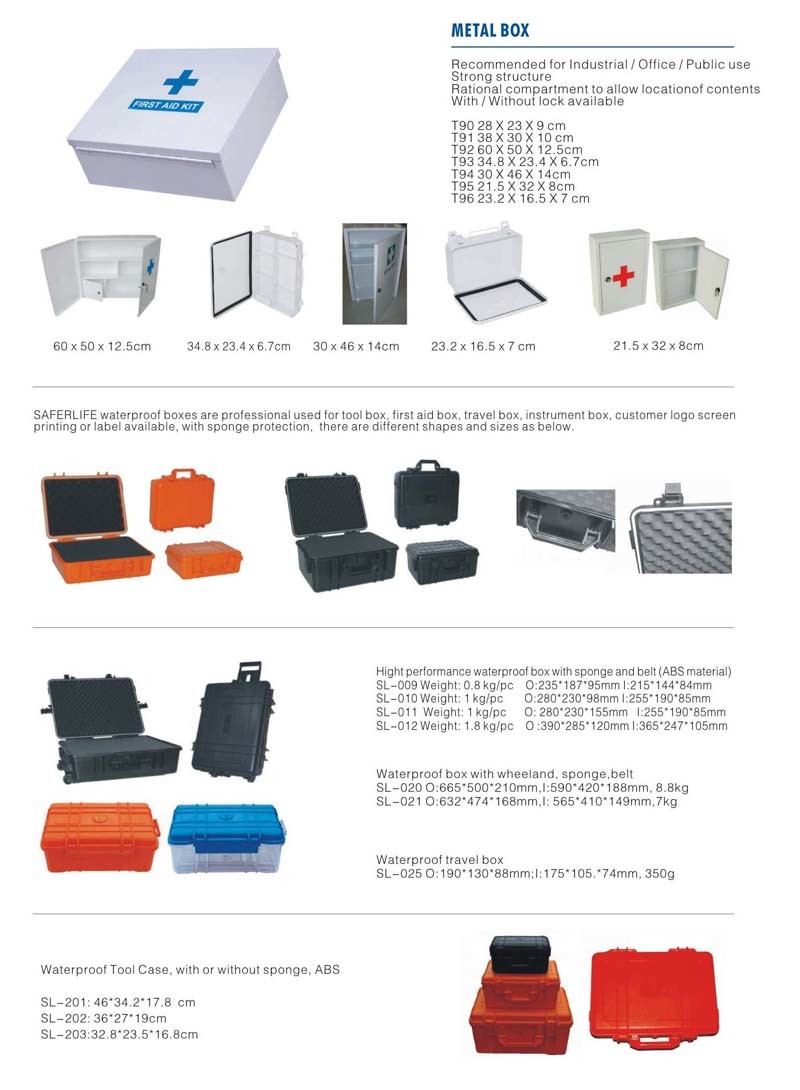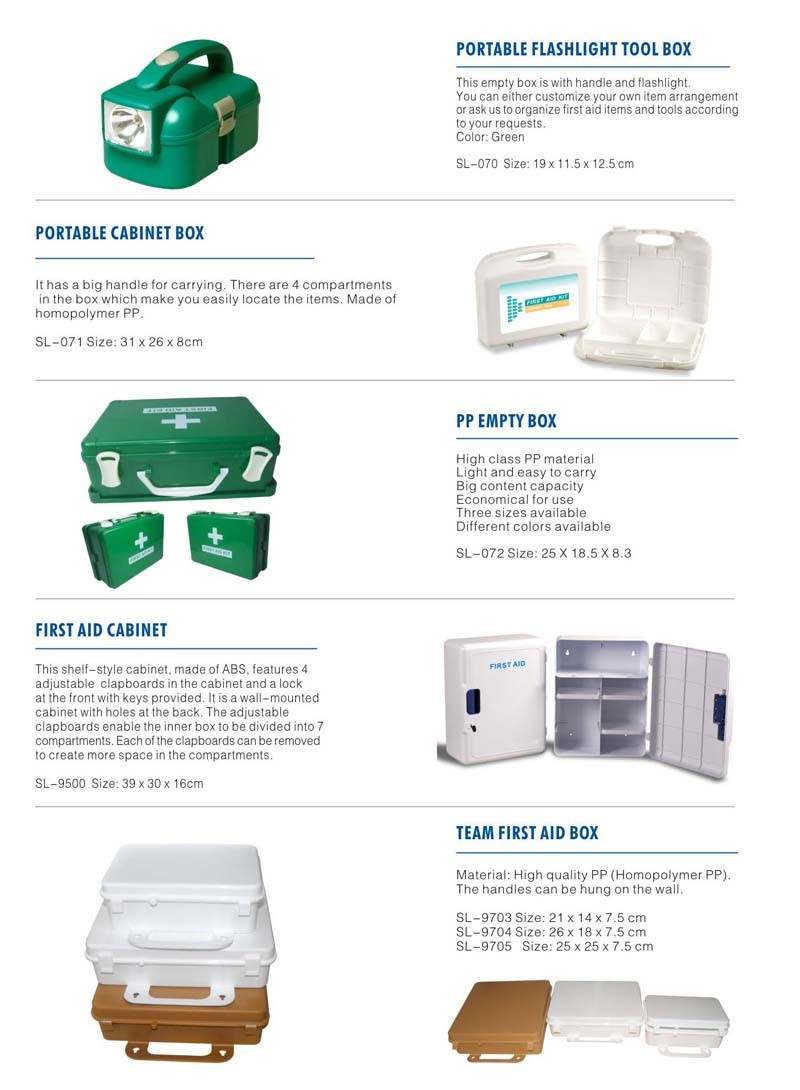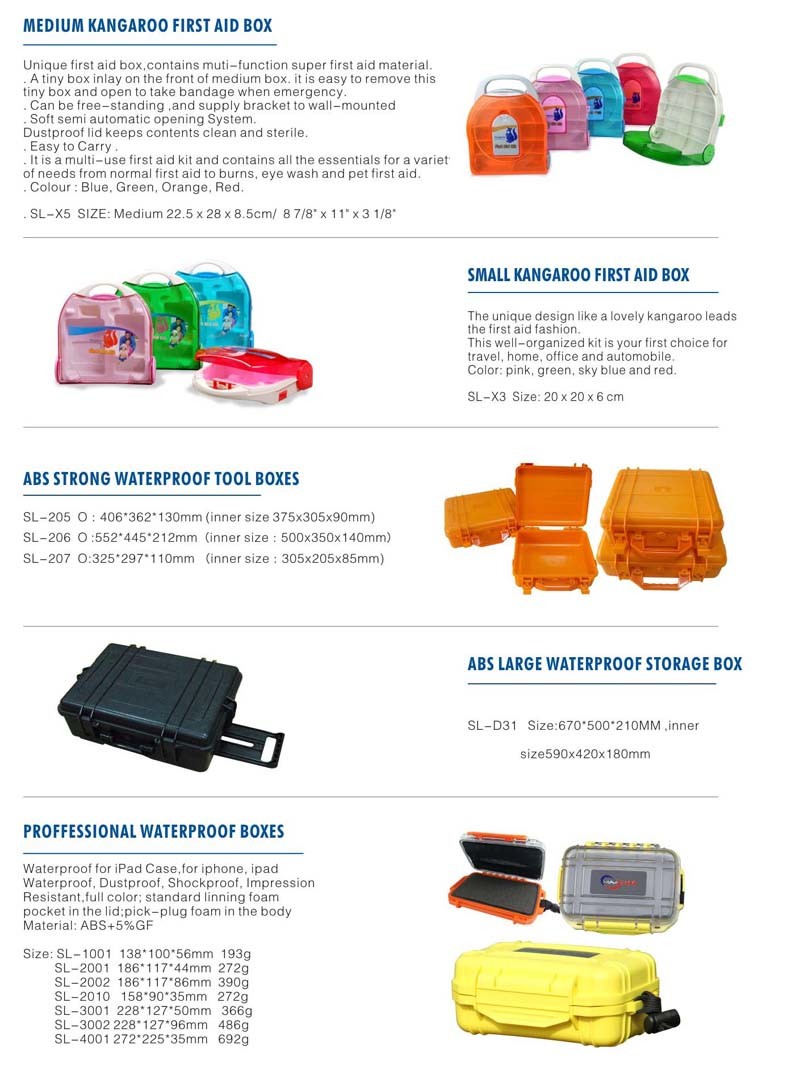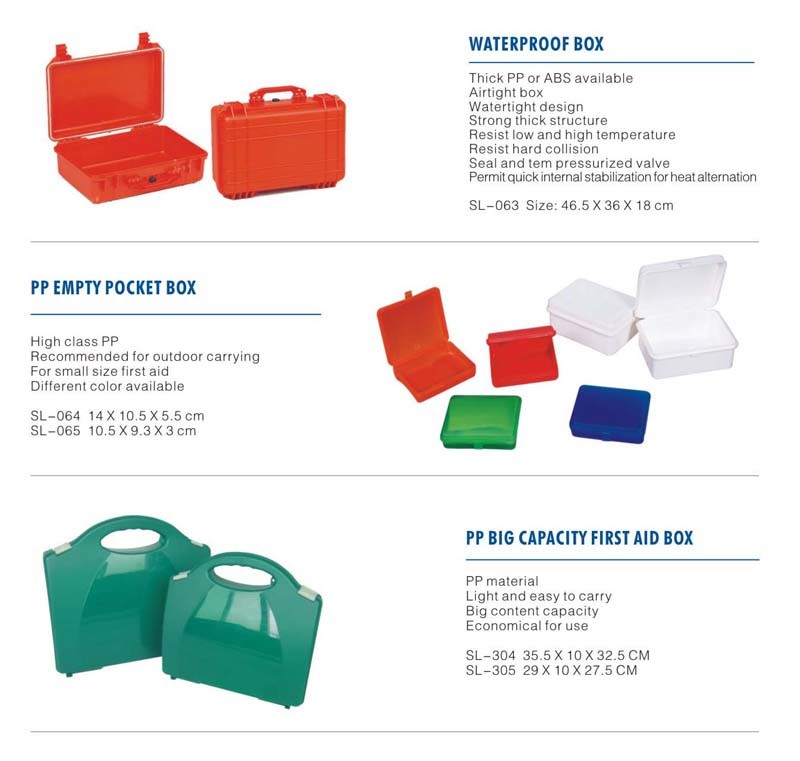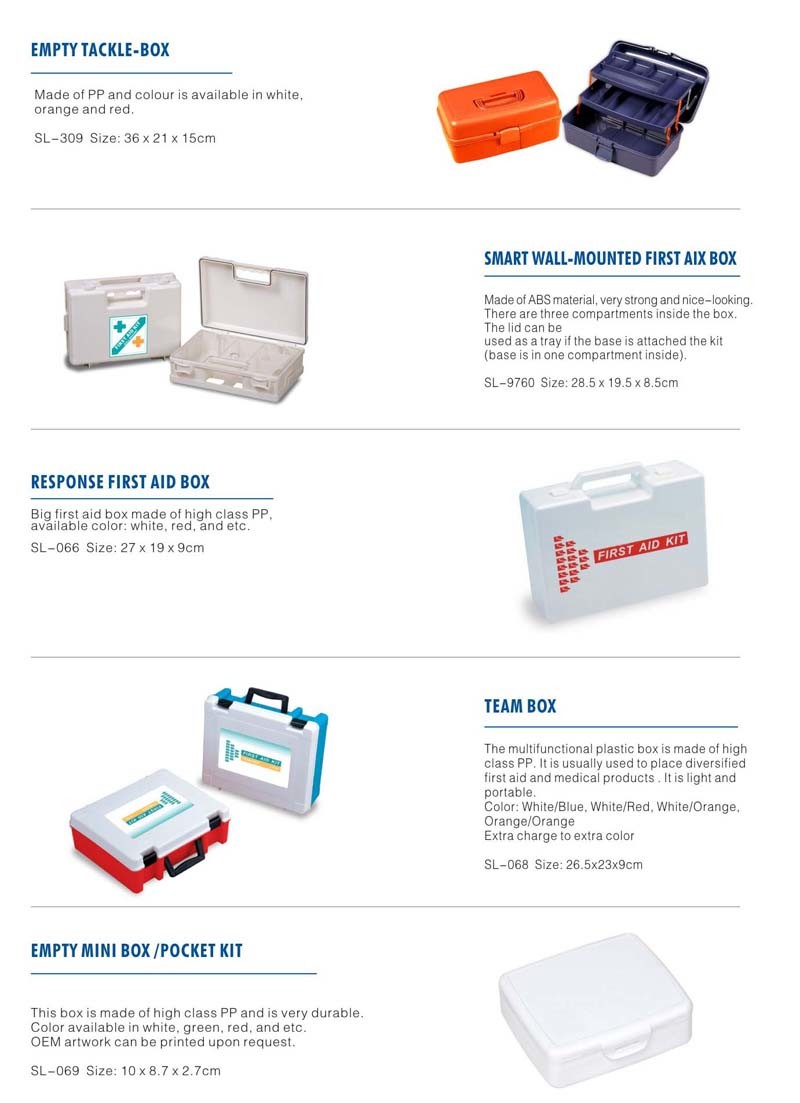 SAFEERLIFE Group set up in 2009. We aim to make the best products by using our manufacturing & assembling strengths to become the primary value producer and supplier of emergency first aid and medical products. We have advanced manufacturing, development, logistics and product management capabilities.

There are three division factories support our service.

Our First aid division main products: First aid kits, CPR mask, CPR face shield, emergency blanket, stretcher, eye wash shower, emergency eye washer and shower system, fire blanket, safety goggles, safety ear plug. Safety vest, safety signs etc. Etc.

Our medical tape devision specializes in the development, manufacturing of kinesiology tape, rigid straping tape, cotton sports tape, EAB tape, cohesive elastic bandages, underwrap bandage, hockey tape and assorted safety for sports and emergency products.

And a electronic factory make a series of hearing aids, analog hearing aids, Digital hearing aids, digital thermometers, forehead strip thermometer, blood pressure monitors.

Plastic Injection molding make a series of first aid boxes, waterproof box, and some plastic medical products such as urine bags, wound drainage system, suction liner, medical suction unit, scrub brush etc.;

Our Vision: We strive to be the most competitive, reliable supplier in the field of medical tapes and first aid.

Our Mission: Provide service and support to people live in a saferlife and better health.

Our Products are widely used in hospital clinical treatment and rehabilitation, athlete sports games, sports protection, animal protection, pet grooming and other areas.

Approved by ISO13485, CE and FDA for our tapes, all of which are available in various specifications and colors and have been exported to Europe, America, Australia, Southeast Asia, the Middle East, and Japan. PP Empty box/ Plastic tool box

High class pp material

Light and easy to carry

Big content capacity

Economical for use

Three sizes available

Different colors available

SL-D01 23*18*5cm

SL-D002 25.5*21*7cm

SL-D003 27.5*23*8.5cm

SL-D004 34*27*8cm

SL-D005 39*35*9cm

SL-D006 43*31*12cm

SL-D007 48*37*15cm

SL-D008 39*35*9cm

SL-D009 41*31*10cm

SL-D10 25*21.5*7cm

SL-D11 34*29*8cm

SL-D12 36.5*31*16.5cm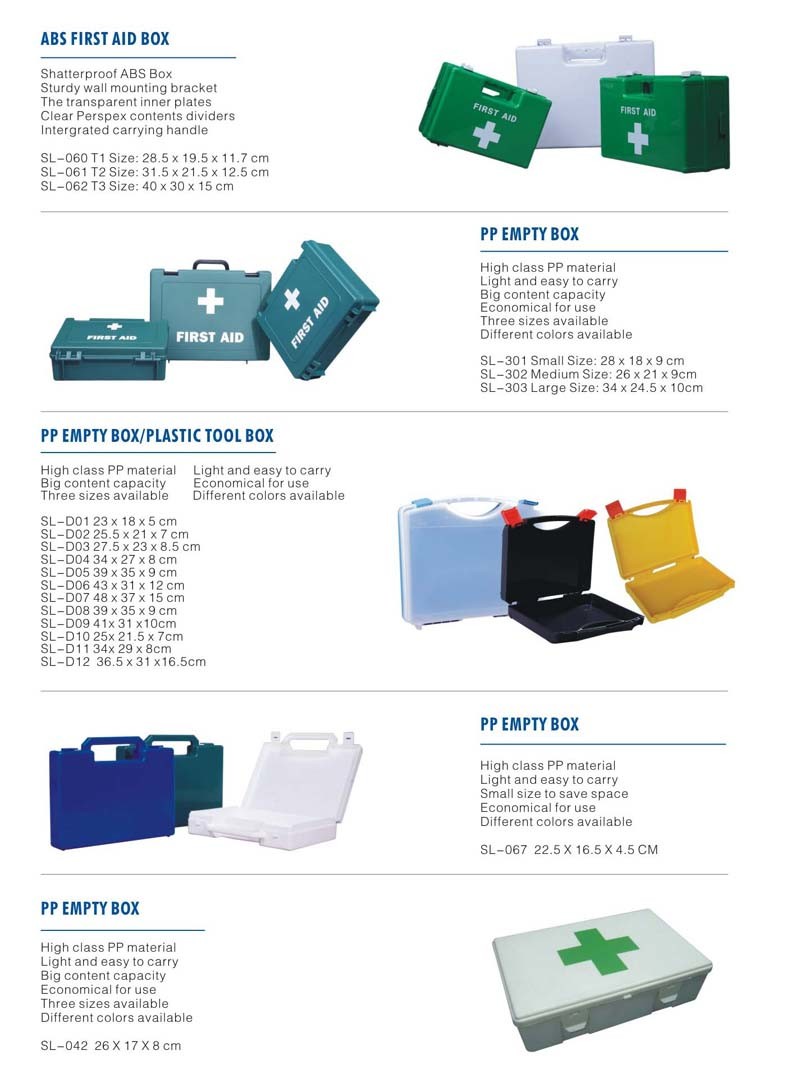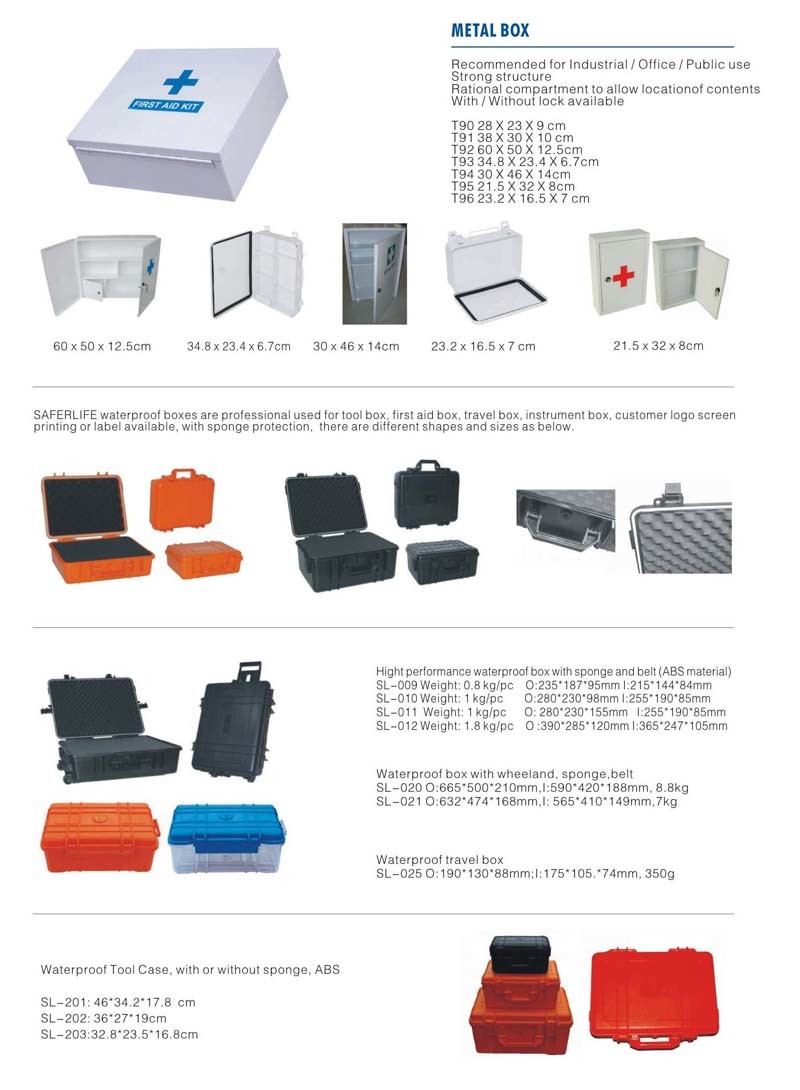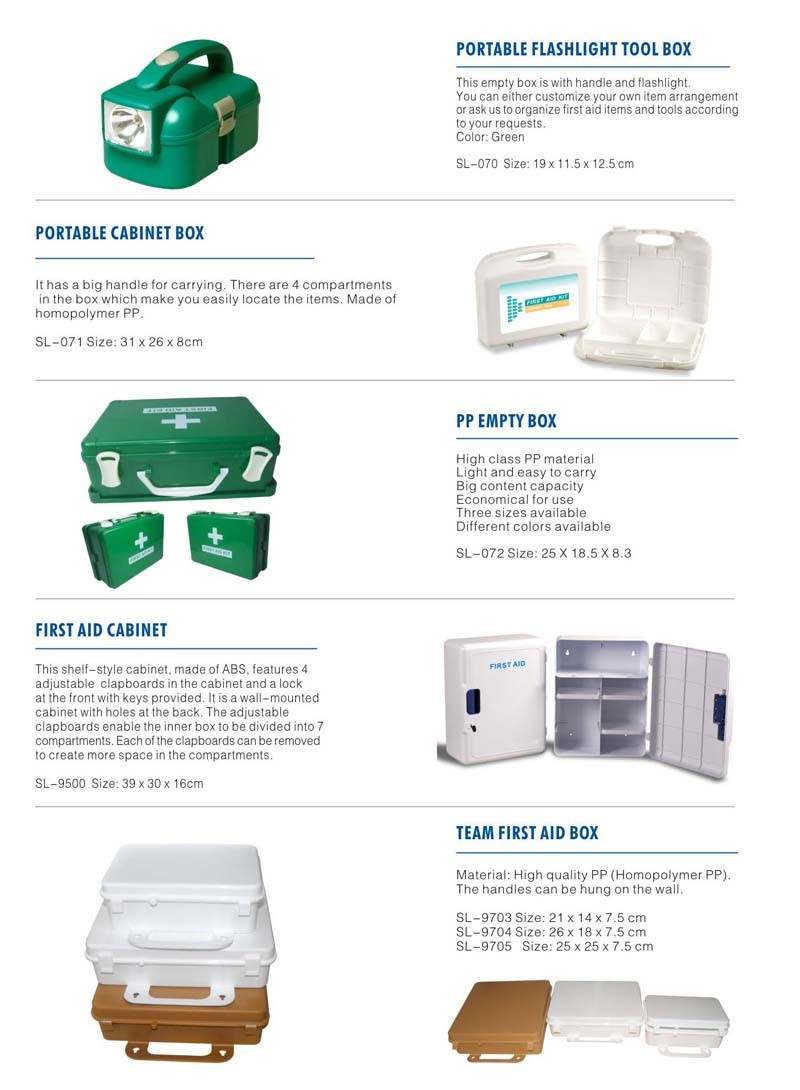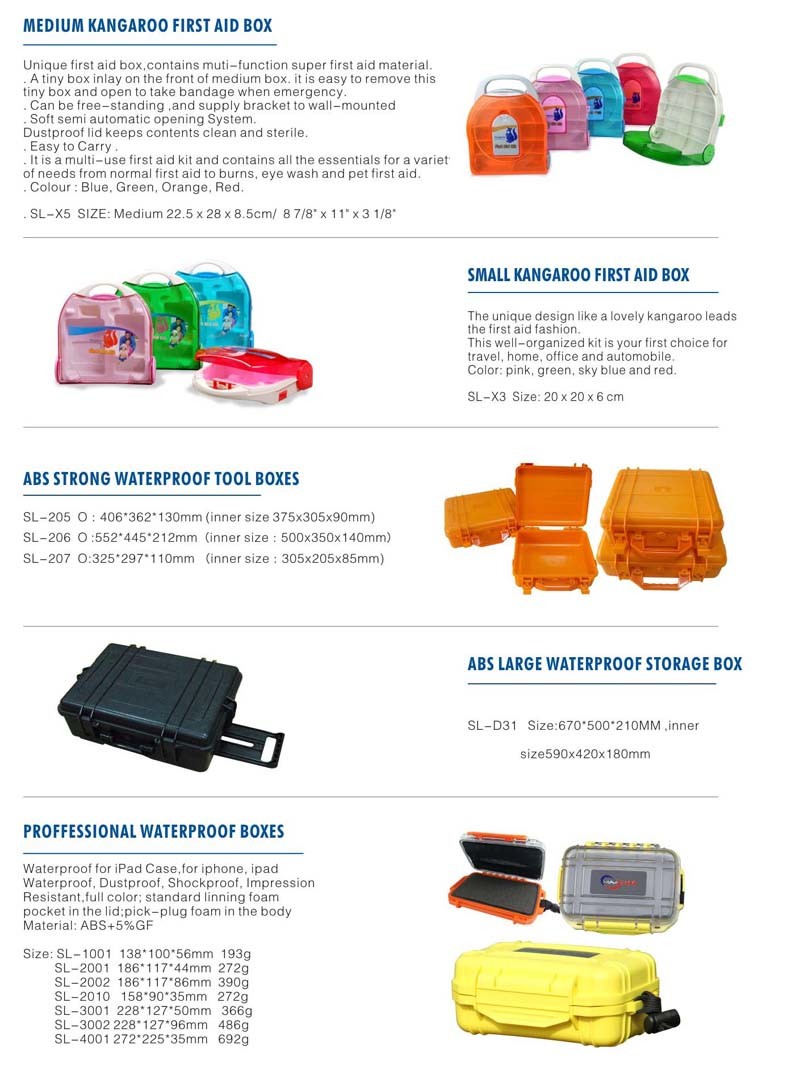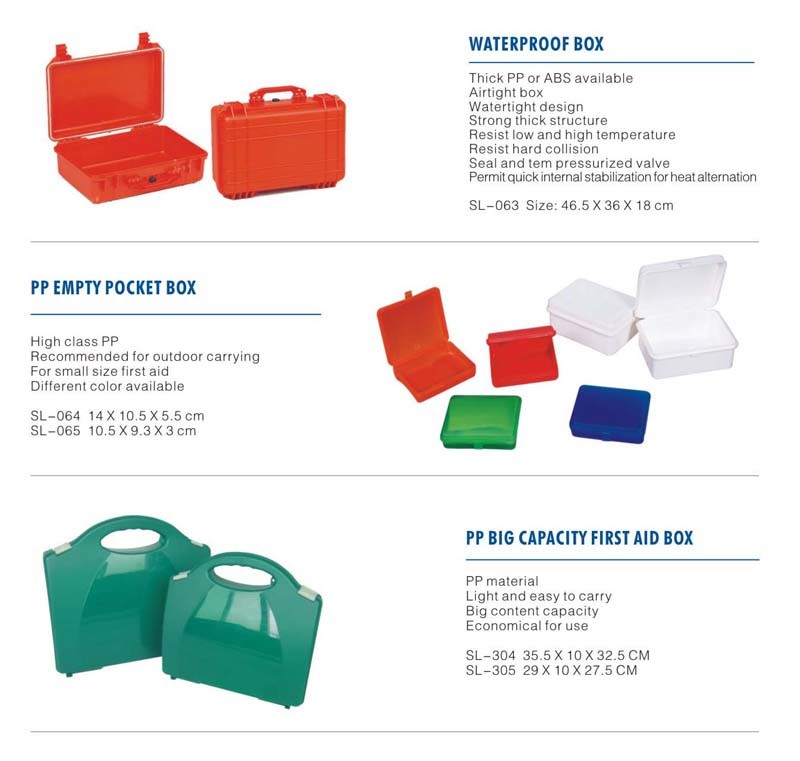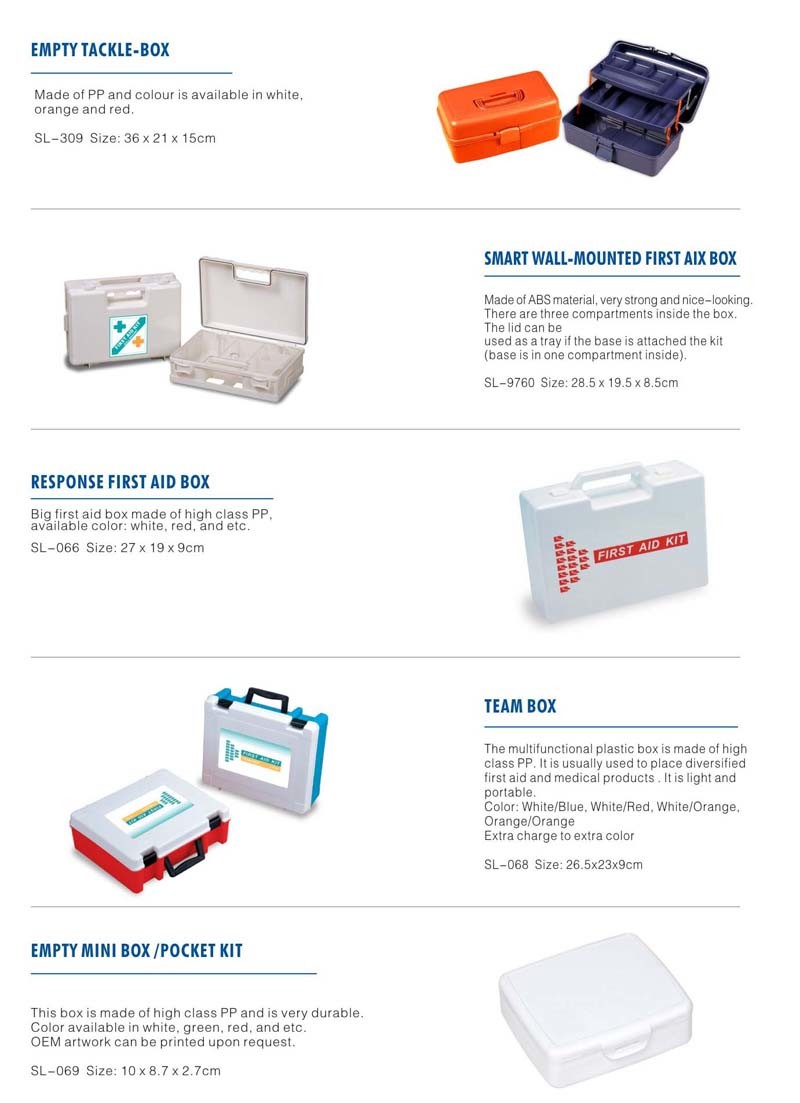 SAFEERLIFE Group set up in 2009. We aim to make the best products by using our manufacturing & assembling strengths to become the primary value producer and supplier of emergency first aid and medical products. We have advanced manufacturing, development, logistics and product management capabilities.

There are three division factories support our service.

Our First aid division main products: First aid kits, CPR mask, CPR face shield, emergency blanket, stretcher, eye wash shower, emergency eye washer and shower system, fire blanket, safety goggles, safety ear plug. Safety vest, safety signs etc. Etc.

Our medical tape devision specializes in the development, manufacturing of kinesiology tape, rigid straping tape, cotton sports tape, EAB tape, cohesive elastic bandages, underwrap bandage, hockey tape and assorted safety for sports and emergency products.

And a electronic factory make a series of hearing aids, analog hearing aids, Digital hearing aids, digital thermometers, forehead strip thermometer, blood pressure monitors.

Plastic Injection molding make a series of first aid boxes, waterproof box, and some plastic medical products such as urine bags, wound drainage system, suction liner, medical suction unit, scrub brush etc.;

Our Vision: We strive to be the most competitive, reliable supplier in the field of medical tapes and first aid.

Our Mission: Provide service and support to people live in a saferlife and better health.

Our Products are widely used in hospital clinical treatment and rehabilitation, athlete sports games, sports protection, animal protection, pet grooming and other areas.

Approved by ISO13485, CE and FDA for our tapes, all of which are available in various specifications and colors and have been exported to Europe, America, Australia, Southeast Asia, the Middle East, and Japan.